Summer holiday in Styria
With nature in your heart
Styria is known as the green heart of Austria, not only because of the lush green vineyards and the bright green apples, but above all for its unique landscape, that shows all shades of the summer colour. During your summer holiday in the Ennstal, you are able to experience the fir green of the shady forests, as well as the grass green of the fragrant alpine meadows and the turquoise green of the mountain lakes.
A stay at Reiters feel-good hotel in Haus in Ennstal is always a holiday in the countryside, close to nature. This is due on the one hand to the excellent location of our hotel – the cable car is only 1000 metres away from the hotel – and on the other hand to the surrounding landscape in and of itself, which makes the Ennstal simply unique. Come and visit us in Haus in Ennstal and you will understand what we are trying to explain to you here.
Schladming-Dachstein Summer card
Schladming discover, explore, experience
Starting with your first night, you will receive the Schladming-Dachstein summer card free of charge for the duration of your stay at Reiters feel-good hotel. We are happy to provide this premium offer for your holiday in Styria. The Schladming-Dachstein summer card is unique in Austria. With the summer card, more than 100 top excursion destinations and attractions can be used free of charge or at greatly reduced prices. Look forward to unique experiences that will become long lasting memories.
Summertime in Reiters feel-good hotel
Great reasons for a summer holiday in Styria
FULLY FLEXIBLE.You can book your unforgettable holiday at Reiters feel-good hotel in Haus in Ennstal either with bed and breakfast of half board. In the summer months, our half board with Genussplus is also available. The different options provide you with the greatest possible flexibility.
A VERSATILE REGION. The Schladming-Dachstein region and the Ennstal offer you many different ways to relax in a unique landscape. Variety is guaranteed with the Schladming-Dachstein summer card! With the summer card you can visit over 100 attraction and excursions for free or at reduced prices.
SAUNA & SWIMMING POOL. Reiters feel-good hotel offers an extensive wellness area with a total of four different saunas. Our relaxation room is a special gem, with a view of the green landscape. Comfortable sun loungers are provided in the hotel's private garden. The public swimming pool in Haus in Ennstal is only a few steps away.
HOUSE WITH CHARM AND CHARACTER. Reiters feel-good hotel where the well-being of our guests comes first. We take care of your well-being and make sure that the personal touch is not neglected. In our hotel we do not only welcome guests, but individuals with their own wishes and ideas, which we are happy to accommodate.
MODERN FACILITIES. Reiters feel-good hotel has cosy single rooms, generous double rooms and spacious suites on offer for its guests. All rooms in our hotel are modern and comfortably furnished. High-quality wooden furniture creates a warm feel-good atmosphere. All in all, we stand for an excellent price-performance ratio – you will see and feel it!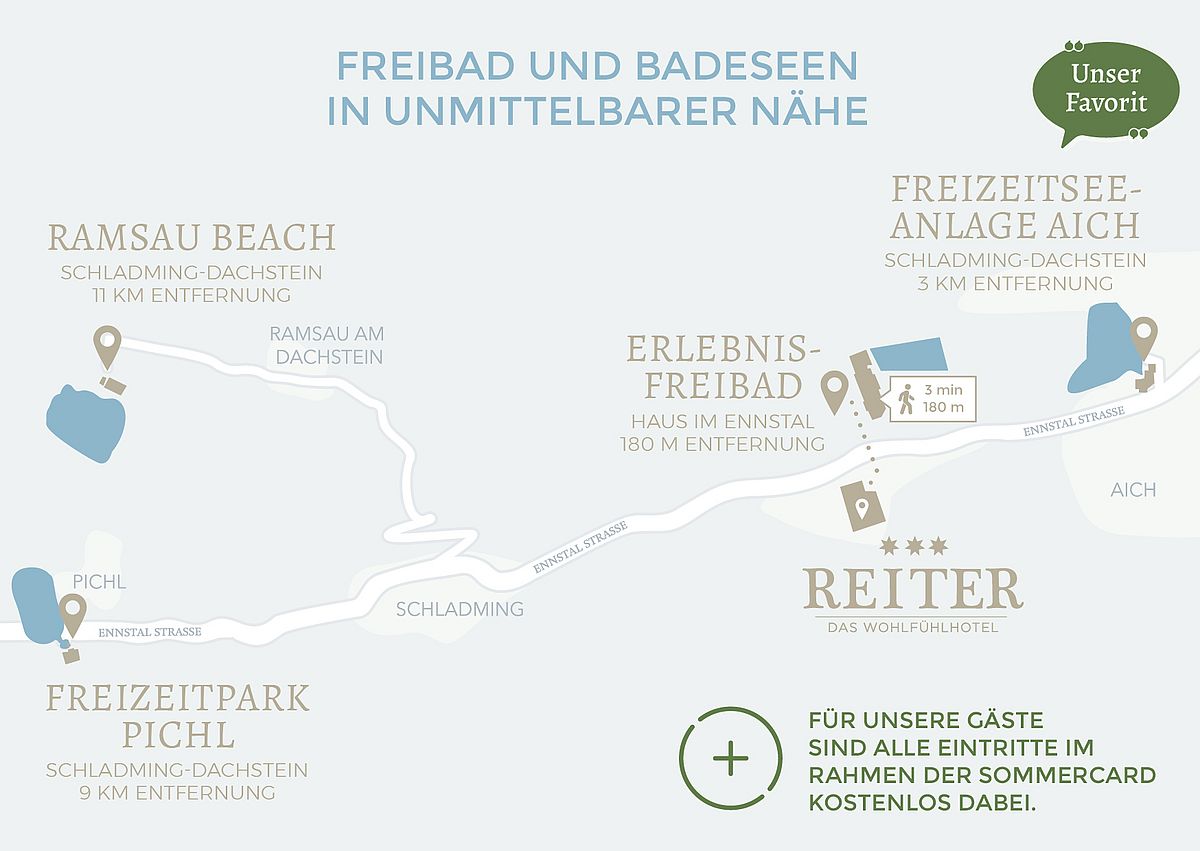 How can we help you?
We are happy to personally advise you.